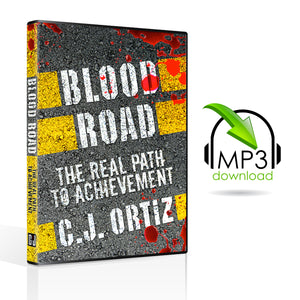 Blood Road: The Real Path to Achievement (5 MP3s)
Regular price $27.00 $9.97 Sale
Life is simple, but it's hard work, and people look for magical answers because they want the easy way of short cuts. Some people do win the lottery, but that's a huge risk to take when we're talking about your life. It's better to use the proven principles of achievement: hard work, planning, consistency, and self-discipline.
People are afraid of the cost of real achievement and lasting change, but it doesn't need to be so intimidating. Once you learn how to release your own motivation, and your own personal power, you'll find yourself hauling ass down the road of achievement. Here's what you'll receive (5 audio mp3s):
The Hard Way is the Only Way
The Quickest Way is the Longest Road
Follow Your Bliss
The Power of Personal Discovery, Part 1
The Power of Personal Discovery, Part 2
This life-changing audio series features 5 downloadable MP3s that you can play on your mobile device or computer.
NOTE: these MP3s cannot be downloaded directly to your phone or mobile device. You must first download them to the computer and then sync them with the software you use to sync or back up your mobile device (e.g., iTunes, GooglePlay).