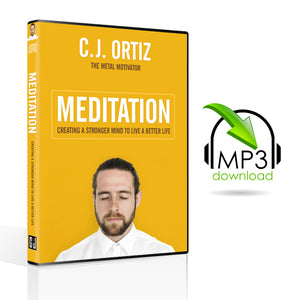 Meditation: Creating a Stronger Mind to Live a Better Life (5 MP3s)
Regular price $27.00 $9.97 Sale
"I don't meditate to escape the world. I meditate to equip myself to invade it!"
Meditate is taken from a Latin word which means to contemplate. To make it simple, it means to focus your thinking in order to think deeply about something.
Meditation is actually something you do all the time.
Whether you take time out each day to meditate, you're actually meditating all the time, but it may not be in a way that's beneficial to you.
For example, you may be thinking about something negative that someone said to you. You run it over and over in your mind throughout the week, and you get angry.
Or, you're worried about something, and again, you mull it over and over in your mind which increases your worry, elevates your heart rate, and robs you of rest. This is all meditation.
Strengthening the Center of Your Mind
The more we contemplate something, the bigger it becomes in our minds. So much so that it begins to distort our perception of reality. An otherwise simple problem becomes "the end of the world" because we exaggerate it in our minds.
The very same thing could be accomplished in a positive sense, but the determining factor is the "center of our mind," and that's where my emphasis will be placed in this series.
In fitness, they refer to "strengthening your core," which means strengthening and building up the areas of your body which determine all movements such as your abdominals and lower back.
Once the core, or center, of anything is lost, the whole house collapses. This is true in your own life. You can withstand certain losses both physical and emotional, but if you lose hope at the center of your heart and mind, you'll give up.
The goal of meditation should be three-fold:
Strengthen the center of your mind.
Manage and maintain your mind throughout your day.
Release the creative power of your mind.
I don't meditate to escape the world. I meditate to equip myself to invade it! Get this powerful audio series and start transforming your life!
This life-changing audio series features 5 downloadable MP3s that you can play on your mobile device or computer. 
NOTE: these MP3s cannot be downloaded directly to your phone or mobile device. You must first download them to the computer and then sync them with the software you use to sync or back up your mobile device (e.g., iTunes, GooglePlay).